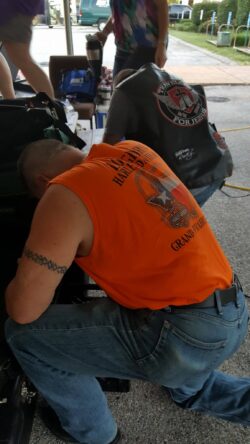 Now this is the confidence we have before Him: Whenever we ask  anything according to His will, He hears us.
Welcome to Have Bible Will Travel's PRAYER WALL. You are welcome to share your prayers with the community here, write an anonymous prayer, share a prayer with the church staff only, or pray for other prayers on this page. We are all community, please share your prayers, prayer requests and praises here with us.
Kim Gray, October 8, 2021 - 8:18 am
2 requests: #1. Our daughter Kindra tested positive for Covid and 2 of our grandkids, Emma & Luke did too! #2. I have 2 different eye issues going on. Swelling of my cornea in right eye and both eyes have macula holes. No insurance and needing retinal and corneal surgery. If I wait too long, it could cause blindness.
Anonymous, October 3, 2021 - 10:54 am
Cynthia, October 2, 2021 - 6:02 pm
Please I need prayers for my co worker/ friend Sylvia she has not been calling off of work so we did a wellness check on her. She was laying on the ground. Words really sluggish half her face blue. Shes in hospital now. Were not sure whats going on at the moment I need all the prayers we can get. Lord give her the strength to keep fighting. Lord help her recover and protect her. Amen
sally minardi, October 2, 2021 - 11:26 am
My son along with his 10 yr old autistic so are living In a shelter after moving from Washington state. He got a job this week but after a certain amount of weeks they have to leave the shelter. He needs help to deal with his sons school and medical needs and he needs a small apt or house. I've given this all to Our Lord and am asking for your prayers for them. Hes trying so hard to take care of his son. They need a place to call home and people that care. Thank you.
Kim Gray, October 1, 2021 - 8:26 am
Please pray for my half brother, Wayne's family. He passed away in 2019 from alzheimers and his wife, Darlene just passed away from complications from COVID. Keep their children and grandchildren in your prayers!
Ryan walker, August 28, 2021 - 9:22 am
I have a buddy, whose wife, Amy Burney Slimick, is battling COVID. She's not doing well. Please pray, The Lord, heals her and give my friend, Brian piece of mind. Thank you
Each request will be moderated before it is posted, so there may be a short delay before the request is public.