Good Morning
Happy Friday, July 23rd


"Don't let worrying over troubles especially things that haven't
even happened yet keep you from laughing.
Live each day to its fullest by being full of My Joy.
That doesn't mean you won't ever have any problems.
It doesn't mean you won't ever be sad.
But it does mean that when troubles come, you can still have Joy
because the Creator of the universe is right there beside you—
helping you with your problems.
So learn to laugh at your troubles . . .
and you'll find that they aren't nearly so troublesome."
Jesus Calling by Sarah Young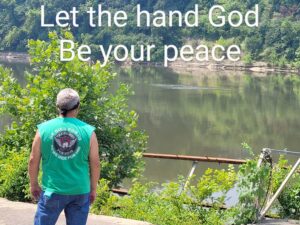 She is clothed with strength and dignity;
she can laugh at the days to come.
Proverbs 31:25
Today's prayer 🙏
Father God,
We just want to thank you for always keeping that joy in our being even through the tough times.  Yesterday, Lord, was a prime example; we were out riding and my brother Tim's bike broke down on Hwy. 40 with the temperature at 95 degrees and humid.  There we were Lord, standing on the side of the highway baking in the hot sun. But not one time did any kind of anger or anything of its kind come to surface in any of us.  Things worked out because we knew by keeping your joy and trust
that everything was going to be ok.  Within an hour we had Tim's bike in a Harley shop.
So Father God, first and foremost I want to thank you again, for having your mighty hands on our situation and keeping us safe on the side of that highway.
But my prayer today is for everyone who knows and loves you always keep that peace that only comes from your Holy Spirit.  So they too, can get through all their trials and troubles still filled with joy and peace from Jesus Christ.
Thank you Lord!
In Jesus' name,
Amen
Today's question 🤔
Are you calm through your storms?
Just let the hands of God help you through them.
Pastor Bevo
                   ~Keep yourself in the light and love of Jesus, because it is then He blesses your life.